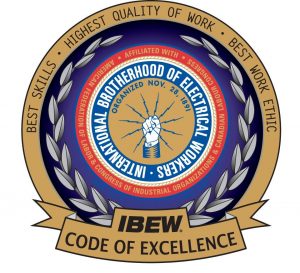 October 12, 2017 – Worcester, MA – IBEW Local 96 is conducting ongoing IBEW/NECA "Code of Excellence" training sessions for all Local 96 members. Local 96 and the National Electrical Contractors Association (NECA) Central Mass. Chapter formally instituted the agreement in late April, 2017 and training began in mid-July. The most recent course, held on October 11, was attended by 40 Local 96 members. Craig Duffy, IBEW International Representative, Education & Training Department, conducts all training at the Local 96 union hall in Worcester.
The program is focused on a commitment that ensures union electrical workers perform the highest quality and quantity of work on every job site, utilize their best skills, and exercise safe and productive work practices. The Code of Excellence program includes the union's inside and outside electricians and technicians, as well as members in management and supervisory roles.
Thomas Maloney, Business Manager at Local 96, commented on the program: "The Code of Excellence is an agreement between our workers and our contractors to give 100 percent in delivering greater value to our customers. Through it, our customers are guaranteed that our highly trained and proficient workers perform to the highest level of professionalism and productivity on the job. It's a commitment that we will meet or exceed our customers expectations on every project." More than 80 Local 96 members, nearly one-third of the Local 96 workforce, have already completed the training.