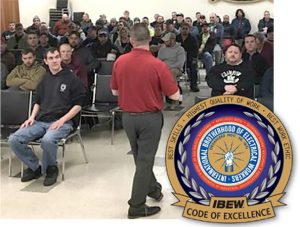 Worcester, MA – On January 15, 2019, 111 IBEW Local 96 members, comprised of journeymen and apprentice electricians and technicians, received certification in Code of Excellence Training at the Local 96 Union Hall in Worcester.
The Code of Excellence program is focused on a commitment that ensures union electrical workers perform the highest quality and quantity of work on every job site, utilize their best skills, and exercise safe and productive work practices. The program is mandated for the union's inside and outside electricians and technicians, as well as members in management and supervisory roles.
Thomas Maloney, Business Manager of IBEW Local 96, commented on the program: "The Code of Excellence is as an agreement between our workers and our contractors that all union electricians and technicians give 100 percent effort to deliver on our promise of safety and productivity to our customers. The training assures the City of Worcester and communities throughout Central Massachusetts, as well as building owners, managers and developers in the region, that when hiring Local 96 electricians they are assured that our highly trained and proficient workers perform to the highest level of professionalism and productivity on projects of all complexities. It's a commitment that we will meet or exceed our customers expectations on every project."
More than 190 Local 96 members have now completed the training and additional training sessions will conducted in 2019.