Architect: Sasaki Associates, Inc., Watertown, MA; GC: Bond, Everett, MA; EE: BR+A, Boston, MA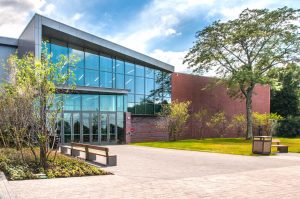 Worcester, MA – Electrical construction of the newly renovated and expanded Hart Center athletic and recreational facilities at the College of the Holy Cross was recently completed by IBEW Local 96 signatory contractor, Ostrow Electric of Worcester, MA.
The electrical project scope was comprehensive in the multi-phase project, which included the renovation of the existing 140,000 square foot Hart Center sports facility and the ground-up construction of the adjoining 150,000 square foot new performance center addition.
Renovations to the existing Hart Center arena included electrical installations for the new entrance to the building, new lighting systems for the entire facility, and state-of-the-art A/V systems. The renovated field house features a fully modernized basketball and ice hockey arena for the Holy Cross NCAA Division 1 programs, exercise studios, weight training rooms, shower and locker room, and the college's centers for health, wellness and fitness programming.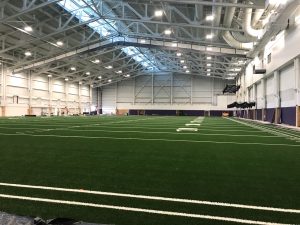 The Hart Center's new sports performance facility entailed Ostrow and its IBEW Local 96 crew providing installations of the facility's primary and emergency power, electrical distribution, interior and exterior lighting and lighting control systems, fire alarm system, tel/data and security systems. The state-of-the-art addition houses a 64,000 square foot indoor practice facility for the College's Division I's athletic programs, an auxiliary gym for basketball team practice and volleyball practice/competition; specialty space for sports medicine, a state-of-the-art 9,500 square foot strength and conditioning space, athletic program offices, meeting rooms, and an exterior plaza for special events.
Ostrow Electric Project Manager Dan Small, General Foreman John Peterson and Foreman Ed Gutierrez managed a skilled field crew of 18 Local 96 electricians at peak construction in the complex, 21-month project. The project commenced in January 2016 and was completed as scheduled, on September 29th, 2017.
Ostrow worked on a project team with architect, Sasaki Associates, Inc., of Watertown, MA, general contractor BOND, based in Everett, MA, and engineering firm Bard, Rao + Athanas Consulting Engineers (BR+A), of Boston.