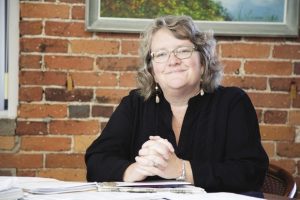 In November 2017, Susan Coghlin Mailman, president of Coghlin Electrical Contractors, Inc., based in Worcester, MA, was elected to serve a two-year term as president of the Associated Subcontractors of Massachusetts (ASM) at the association's Biennial Gala in Boston.
Commenting on her role, Mailman said, "I am honored to become chair of the ASM Board of Directors and to be able to represent the interests of subcontracting firms throughout Massachusetts. I believe our industry is a story of workforce development. The construction industry needs to diversify its workforce. We need to welcome women, and I mean REALLY welcome women – as respected colleagues that work in the field, that manage our projects on jobsites, that serve as estimators and CAD engineers and purchasing and accounting folks, and ultimately own and operate our businesses."
She added, "We need to embrace our diverse ethnic populations. Our state has stagnated in natural born citizens, yet our immigrant populations are growing. The success of our businesses, I believe, will hinge on our ability to train and develop a diverse workforce. A nod goes to the Massachusetts Gaming Commission for their work in the state on behalf of women and people of color – they are impacting families lives with good paying jobs. The entire industry will benefit because of the effort being made today."
"It is very important to me is that my company's home has always been in Worcester – Coghlin Electrical is fortunate to work all over the state, and I hope during my tenure that we can increase ASM members from central and western Massachusetts and Cape Cod, as the work that gets done at our organization truly represents all of the state," said Mailman.
Coghlin Electrical Contractors is a 4th generation, family-owned electrical contracting company. A signatory contractor to IBEW Local 96, Local 103, and Local 7, and member of NECA Boston Chapter, Coghlin Electrical provides comprehensive electrical construction, telecommunications and security services for diverse corporate, educational, corporate, healthcare, biotechnology, civic, and casino projects thoughout Massachusetts. Presently, the company is nearing completion of work in Springfield, including a Science Building at Amherst College; is in progress with the Foisie Innovation Center at WPI in Worcester; and, is underway with the Harvard University Smith Campus Center renovation.